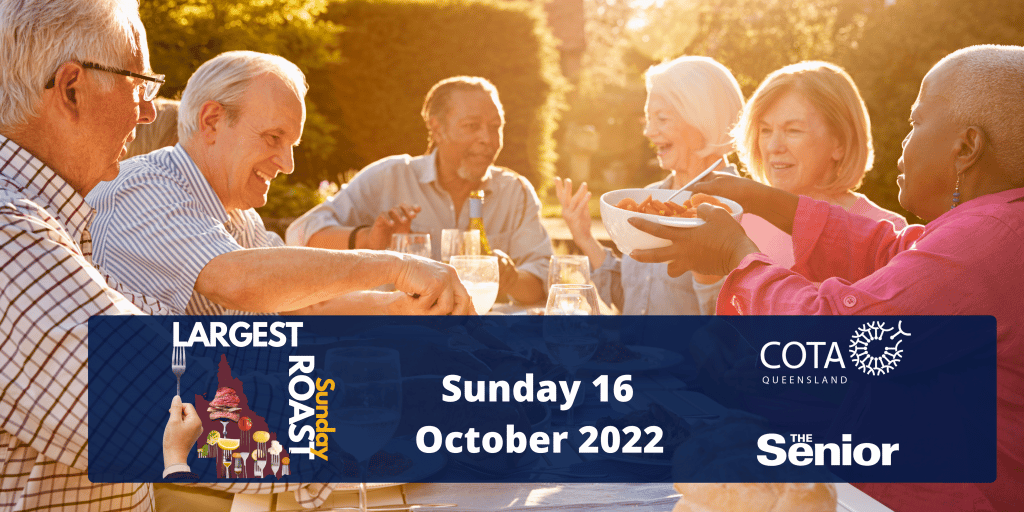 Combating social isolation and loneliness,one fork at a time.
This year's continued theme of Social Connections, remains incredibly relevant as these connections are essential at any age.
Thinking about the activities that connect us, food is at the top of the list.
On Sunday 16 October we are calling for Queenslanders of all ages to come together by raising a fork and connecting over a meal with another, creating Queensland's Largest Roast.
Imagine gathering Queensland households near and far with people of all ages to sit down to a big meal reconnecting after a long week. The wonderful thing about food is that it has the ability to surpass physical and language barriers, allowing us to share our stories of life, culture, and creativity.
Did you know that 1 in 3 seniors have reported feeling lonely?
Or that 1 in 3 seniors live alone and are at increased risk for social isolation and/or loneliness?
There are over 880,000 seniors in Queensland: that's a lot of people who may be feeling lonely and/or socially disconnected.
Feeling socially connected not only makes us feel good, it provides great health benefits and improves our quality of life.
The Largest Sunday Roast is a great opportunity to reconnect with friends and family who may have been isolated due to the COVID pandemic, meet new people, and make new friendships.
Best of all you can host your Sunday Roast any way you like.
You could:
* share a meal at home with family and friends,
* go to your local park with your community, or
* enjoy a meal together at a participating restaurant.
The only way for us to know how big our Sunday Roast was is for you to let us know if you'll be hosting a dinner and how many diners you're expecting. Please let us know if you'll be raising a fork by clicking on the button below.
So, invite your older friends and family, reach out to your neighbours and come together on Sunday 16 October to create Queensland's Largest Sunday Roast.
Looking for some cooking inspiration? Maggie Beer has you covered. 
Maggie Beer is supporting Queensland's Largest Sunday Roast by sharing two of her fabulous recipes that are sure to bring a crowd to your table.